RE-LOCATOR
Localization, recovery and returning
The new MICARE PS RE-LOCATOR - specially designed for classic and collectors' cars
What is the MICARE PS RE-LOCATOR?
The MICARE PS RE-LOCATOR (recovery locator) is a passive 5-way tracking module. It enables the exact location and recovery of a stolen vehicle through a 24/7 security center. The chance to clear up a car theft is much higher with the MICARE PS RE-LOCATOR than with the active track and trace systems used so far.
How does the RE-LOCATOR work?
In contrast to classic solutions, RE-LOCATOR works with passive instead of active positioning. The RE-LOCATOR locates via GSM (mobile network) and GPS (satellite positioning) and also has three other options for locating the vehicle at close range using BT, LoRa and RFID. This allows the RE-LOCATOR to locate and secure vehicles even in locked garages, trailers and halls.
What distinguishes RE-LOCATOR from other systems on the market?
Conventional tracking systems have decisive disadvantages: If they are connected to the 12V on-board power supply and the vehicle is rarely used, they continuously discharge the car battery. Then it can happen that at the time of the theft no tracking can take place. In the case of stand-alone, battery-powered tracking systems that continuously transmit position data before or after a theft, the internal power supply is depleted after about two weeks. Thieves can easily detect these signals using frequency scanners for locating GSM or GPS signals, so-called sweepers, in order to suppress them during the theft with a jammer. The RE-LOCATOR remains hidden from thieves because it is invisible to sweepers. And also the jammer method remains unsuccessful - it could only delay the tracking.
What are the advantages of the RE-LOCATOR?
The RE-LOCATOR is a self-sufficient tracking system with a three-year battery life. Two strong magnets hold the module, therefore no drilling of holes on the vehicle is necessary.

Is a garage visit necessary?
The RE-LOCATOR can be installed by the user. Self-installation saves time and money, no workshop visit is necessary.
What happens to my tracking data?
This data is only used by the security center to locate your vehicle in case of theft. The RE-LOCATOR is specially programmed so that it does not record or store any data on driving routes, whereabouts or speed.

This is what the RE-LOCATOR-SET from MICARE PS offers you:
5-way tracking via satellite, GSM, LoRa, RFID and BT.
Theft emergency call 24/7 with security center
Localization and tracking of the vehicle in case of theft
Recovery by professional investigators - without additional costs
Repatriation up to 750 km D-A-CH and BENELUX - without additional costs
Vehicle registration in the register including certificate
Marking by high-quality 12-part NFC-ID-SET worth Euro 89,90 included
Identification within seconds even with manipulated chassis number by NFC-ID-SET
Product description:
Self-sufficient tracking system - customer support via security center
Two strong magnets hold the module - no drilling of holes etc. required
Self-assembly possible, no garage visit required
Significant advantages over conventional tracking systems:
Lifetime warranty
German customer support
Device replacement every 3 years
Hardware monitoring once a day for function control
Three years battery life - no connection to the vehicle battery
Passive system - "invisible" for so-called sweeper/frequency scanner of car thieves
Services in case of theft - IRS - Investigation and recovery service included:
24/7 hotline number
Vehicle tracking and recovery by experienced private investigators
Assistance in dealing with local authorities - especially abroad
Securing of vehicle and return transport
The RE-LOCATOR in a full service package:
859,00 Euro including VAT and 36 months of all services!
Service guarantee:
New hardware in exchange after three years - without additional costs!
Contract extension:
179,00 Euro per year (from the fourth year on)!
If you have any questions or would like to receive more information about RE-LOCATOR, please send us a short email to info@micare-ps.com.
We will be glad to help you!
Would you like to order the RE-LOCATOR right away? Then just send us an email to bestellung@micare-ps.com. We will send you the RE-LOCATOR directly to you within 7-14 working days.
Provable success - Porsche recovered!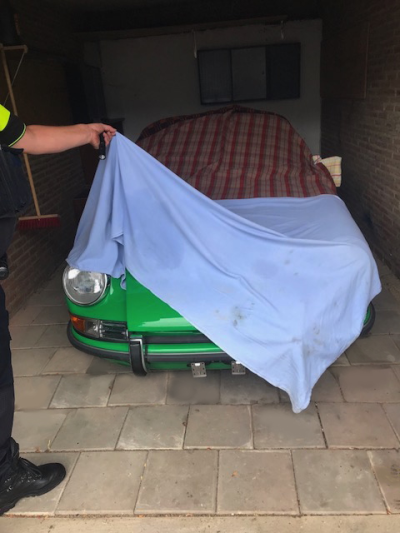 The cooperation between MICARE PS and private investigator Gerrit Walgemout can celebrate its first success. Thanks to the new MICARE PS RE-LOCATOR
Porsche 911 T von 1972
stolen in Germany was recovered at the German-Dutch border in Kerkrade
The Porsche had one of these passive locators hidden on board. Walgemoet, a former customs investigator from the Netherlands and now a private investigator specialising in the recovery of classic cars, was able to locate the car precisely with a short-wave signal in a garage park.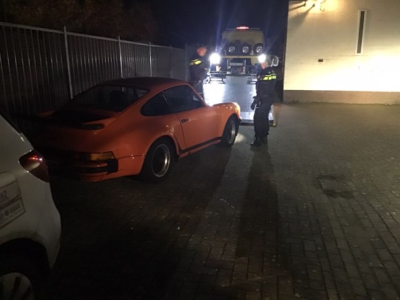 This
Porsche turbo
stolen on 31.10.2020 was recovered by our cooperation partner, a private investigator. This exceptionally early Porsche turbo has a value of 400,000 euros.